With implementing ESG into our organization Main Capital Partners focusses on the future of its portfolio companies, investors as well as their own employees. We believe acting in a socially responsible manner (and according to the ESG guidelines) will improve our ability to meet commitments to beneficiaries as well as better align our investment activities with the broader interests of society.
The corporate values of Main Capital Partners are: partnership, quality, integrity, accountability, teamwork and respect. These values are key to the compliance and integrity of the organization and the individuals working for Main Capital Partners. These key values enable Main Capital Partners to be successful, now and in the future, as the values legitimize the conduct and provide a balance between People, Planet and Profit.
Because sustainability is of great importance for Main Capital Partners and to guarantee sufficient knowledge in this area, we created an ESG-project group within Main Capital Partners and appointed an ESG Officer with a background in Sustainable Finance. The project group consists of (also taking into account mitigating potential conflict of interest risks): the Investor Relations Manager & ESG Officer, the Compliance Officer and the CFRO. The ESG Officer ensures, among other things, the correct implementation of the ESG policy and that the sustainability information on the website is kept up-to-date. The Compliance Officer monitors the implementation of the ESG policy and reports on this to the board. The board is responsible for the integration of the sustainability risks in the processes within the organization.
PRI
To emphasize the importance of ESG, Main Capital Partners has committed itself to a membership to the Principles for Responsible Investment (PRI), instituted by the United Nations (www.unpri.org), since 2014. In accordance with the principles and beliefs of the Fund Manager (i.e. Main Capital Partners), investments in certain segments, geographical areas and activities are excluded. This entails that the Fund Manager will not invest in portfolio companies domiciled in corrupt countries, child labor sensitive industries or the weapon industry (see for the six principles and the full exclusion list here). Due to our core investment focus of software companies in Northwestern-Europe most of these criteria are easily achieved.
SFDR Disclosures
Main Capital Partners (Main) holds a license as an alternative investment fund manager under the Alternative Investment Fund Managers Directive (2011/61/EC), as implemented in article 2:65 of the Dutch act on the financial supervision (Wet op het financieel toezicht).
The wording below constitutes Main's disclosures in accordance with the EU Sustainable Finance Disclosure Regulation (2019/2088) (SFDR) when acting as manager under the AIFMD.
Integration of sustainability risks
This section constitutes Main's disclosure in accordance with Article 3 (1) of the SFDR.
A "sustainability risk" is defined in the SFDR as:
"an environmental, social or governance event or condition that, if it occurs, could cause an actual or potential material negative impact on the value of the investment of an alternative investment funds (AIF) managed by Main."
When making investment decisions for the AIFs managed by it, Main follows an investment decision making process. This process entails that before any investment decisions are made on behalf of an AIF, Main performs due diligence which covers inter alia sustainability risks. Main has designed its own due diligence-questionnaire of which ESG forms an important part. The answers of the due diligence-questionnaire in respect of a proposed investment are analyzed by the responsible deal team, included in the investment proposal, and presented and discussed in the investment committee meeting The investment committee of Main aims to assess the identified risks (including sustainability risks) alongside other relevant factors set out in an investment proposal. Following its assessment, the investment committee of Main makes the investment decision for the relevant AIF.
After the investment and during the holding period, Main will annually update the due diligence/ESG-questionnaire for all portfolio companies. This makes the management team aware about certain ESG-related issues that may be at play.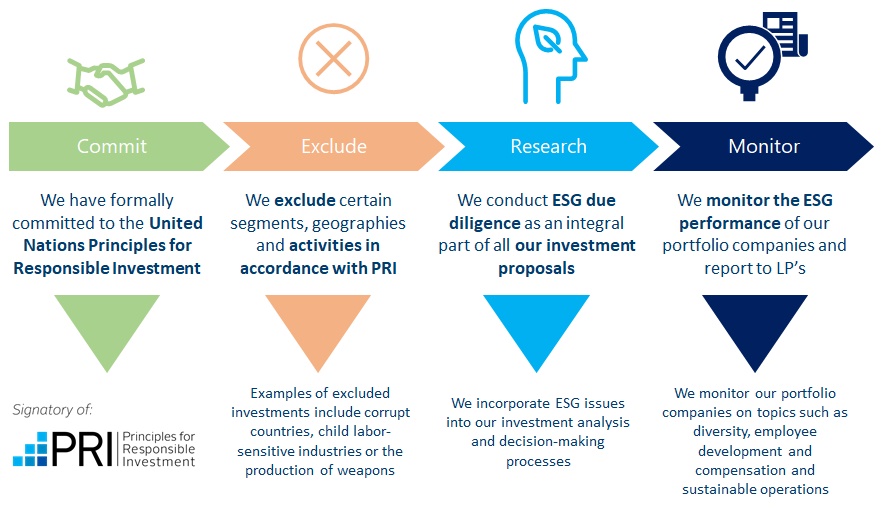 No consideration of adverse impacts of investment decisions on sustainability factors
This section constitutes Main's disclosure in accordance with Article 4 (1) (b) of the SFDR
Main does not consider adverse impacts of its investment decisions on sustainability factors (including environmental, social and employee matters, respect for human rights, anti‐corruption and anti‐bribery matters), within the meaning of article 4 sub 1 b of the SFDR.
The reasons why Main does not consider adverse impacts of its investment decisions on such sustainability factors and therefore does not publish on its website a principle adverse impact statement (PAI statement) in accordance with article 4 sub 1 a SFDR are based on proportionality and confidentiality, as is further explained below.
First of all, Main is not required to publish a PAI statement because it has less than 500 employees (article 4 sub 3 SFDR). In addition, publishing a PAI statement in accordance with article 4 sub 1 a SFDR requires data from all portfolio companies on a substantial number of indicators as set forth in Annex I to the SFDR Delegated Regulation. Portfolio companies may not always have such data available and obtaining such data may be excessively burdensome for a portfolio company. In addition, preparing a PAI statement requires significant time and capacity of Main, which puts an excessive burden on the small organization of Main. Finally, Main conducts a private equity strategy, and does not and is not allowed offer AIFs to the wider public. Making public disclosures regarding portfolio companies is not in line with private character of the AIFs.
Main will revisit on an annual basis whether it intends to consider publishing a PAI statement but has not intention to do so in the near future.
Integration of sustainability risks in remuneration policy
This section constitutes the disclosure of Main in accordance with Article 5 (1) of the SFDR.
Main has established a Remuneration Policy. The Remuneration Policy sets forth that Main pays its Identified Staff a combination of fixed remuneration (salary and benefits) and variable remuneration, which includes inter alia an annual cash bonus. The annual cash bonus is awarded on the basis of financial and non-financial performance criteria. The non-financial performance indicators on the basis of which an annual cash bonus is awarded to Identified Staff takes into account compliance with all policies and procedures, which will include those relating to the integration of sustainability risks on the investment decision making process.
04-05-2023