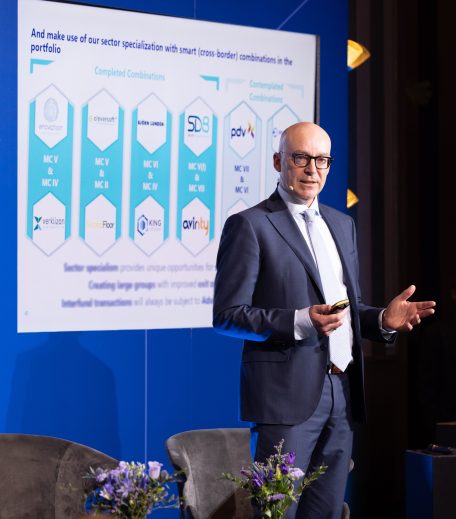 Who we are
As a strategic partner, we provide Enterprise Software companies with the right knowledge and guidance along their profitable growth journeys.
Together we build international, market leading software groups. We drive innovation, increase value and contribute to the entire software ecosystem.
We believe that, by doing so, we are laying the foundation for a better future for the software industry and its societal impact.
Private equity transactions in 2022
Active software groups in portfolio
Software to optimize patient care, improve care and cure workflows, and enhance efficiency for superior healthcare outcomes.
Software to streamline HR processes, foster talent development, and increase productivity for optimized human capital utilization.
Software to protect digital assets, safeguard data, manage digital identities and ensure secure access management to physical and digital spaces.
Software for banks, insurers and financial institutions to manage core banking processes, mitigate risks, and personalize customer experiences across the financial system.
Software to map and optimize current and future-state business processes, streamline operations, and automate workflows for increased efficiency and business resilience.
Software that enhances learning outcomes, promote personalized instruction, and optimize administrative efficiency for educational and personal development.
Software to optimize financial processes - like bookkeeping and billing -, ensure compliance, and streamline operations for enhanced control and accuracy.
Software to modernize and digitalize public tasks, improve citizen engagement, and enable data-driven decision-making for efficient governments.
A software solution that mitigates strategic and operational risks, ensures compliance, and enables organizations to make informed decisions.
Software to manage end-to-end processes, both in construction and post-construction phases of the built asset lifecycle.